Joey Myer
Level 1 Technician
Joey spent 3 years in the United States Army, from 2013-2016 as a utilities equipment repairer. He has over 3 years' experience in the HVAC field and obtained his certifications at Ft Campbell.  Joey assists with duct cleaning and performs routine maintenance. He enjoys knowing our customers are happy when he has finished the job with their system working as efficiently as possible. You may recognize him from a local veterinarian's office. Before he joined our team, he was a Vet tech. Joey enjoys spending time with his friends, working out and watching football.
Nathan Nutt
Lead Installer
Nathan has spent over 19 years working in the HVAC industry. He has extensive knowledge in both installing and repairing systems. At Lucas Air Conditioning, Nathan is our lead installer and takes great pride in knowing the customers will be happy and comfortable when he leaves your home. He enjoys anything and everything outdoors. His favorite hobbies include hunting, fishing, and riding his four wheelers.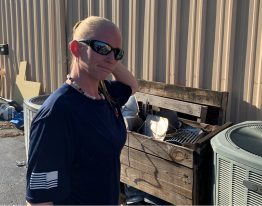 Brittney Payne
Duct Fabricator
Brittney has over 8 years experience the HVAC industry and has been in the construction field since the young age of 14! She has worked on various trades for building homes throughout the years. On every installation she ensures both quality and craftsmanship. Brittney was raised with the mindset, "if you're going to do something big or small, do it right or don't do it at all." We know that when you see her work you will agree that she is the best! When Brittney is not working, she enjoys spending time with her children and animals.